Print Shop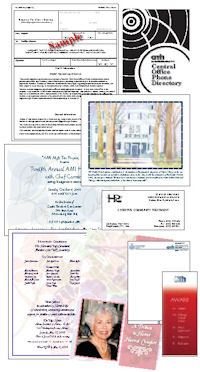 The Print Shop is known for the mass-production of high-quality printed materials at competitive prices in a reasonable time frame.
The Print Shop provides a full line of printing services with equipment ranging from a multi-color Heidelberg Perfecter, capable of printing up to 19" X 25" sheets, to the Didde Web Press, capable of producing 30,000 forms / hour including the ability to provide in-line perfing, numbering, punching, die-cutting, and laminating.
The Print Shop also offers full-color photocopying with the ability to run cover stock which complements two networked black and white photocopying machines.
The Print Shop bindery includes a 26" X 40" 16 page folder, three hydraulic cutters, collators, a shrink-wrapper, hydraulic punches, as well as a Duplo Bookmaker capable of producing 2,500, 96-page, saddle-stitched books / hour with in-line collating, folding, stitching, and trimming.
The Print Shop also offers tape binding and plastic combs for smaller jobs and provides mass-mailing, storage, and on-site inventory services.



Comments or questions about the information on this page can be directed to the Printing and Design Services.