Employment at the Elmira Psychiatric Center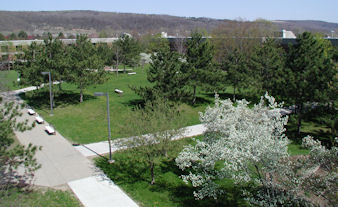 Elmira Psychiatric Center provides Adult and Children's Psychiatric Services, both inpatient (in Elmira) and community centered, with services determined by the needs of the diverse rural counties we serve.
Contact Information for Employment Opportunities
To apply for a position or inquire about potential employment opportunities at Elmira Psychiatric Center, please submit a resume and/or OMH Application for Employment Form * to the Personnel Office:
Job/Career Opportunities
Contact Numbers
Nurses
(RN, LPN, CMHN, BSN, MSN, NP)
(607) 737-4927
Psychiatrists
(607) 737-4738
Psychologists
(607) 737-4749
Social Workers (MSW, LMSW)
(607) 739-3581 x1271
Email: Human Resources
Phone: (607) 737-4726
Fax: (607) 737-4722
Mailing Address:
Personnel Office
Elmira Psychiatric Center
100 Washington Street
Elmira, NY 14901-2898
Of Interest to Potential Employees
New York State Employment offers competitive salaries, a solvent retirement system, superior health and generous time off benefits.
On-Site Services
Daycare
Credit Union ATM
Excellent, Affordable Snack Bar
Gymnasium
Weight Room
Professional Library
Employee Assistance Program
Regional Amenities
Affordable housing market
Excellent public and private school systems
Regional airport with direct flights to Detroit, Philadelphia & Orlando
Abundant outdoor recreational opportunities, including Watkins Glen State Park
Finger Lakes Wine Country
Within 5 hours of New York City, Philadelphia, Baltimore, Buffalo & Toronto
Nearby nationally recognized universities and colleges
Cultural and Performing Arts Centers
* If you are having an accessibility issue on our website and cannot access information, please contact Center for Human Resources Management.
Comments or questions about the information on this page can be directed to the Elmira Psychiatric Center.