South Beach Psychiatric Center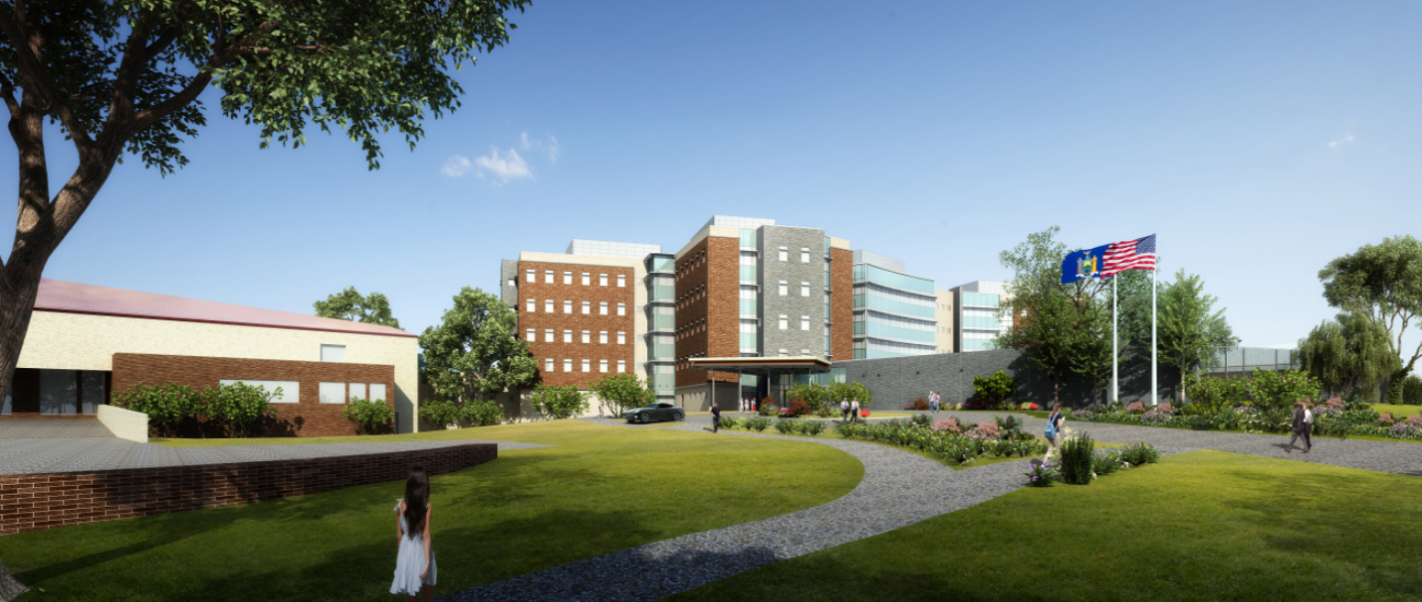 Address:
777 Seaview Avenue
Staten Island, NY 10305
Driving Directions
Phone: (718) 667-2300
Fax: (718) 667-2344
E-Mail: South Beach Psychiatric Center
Executive Director
Doreen Piazza, R.N.C., M.S.
Director of Clinical Services
Marc W. Manseau, MD, MPH
Deputy Director Administrative Services
Joseph Alexander
Deputy Director Inpatient Services
Jacqueline O. Guddemi, LCSW
Deputy Director Community Services
Maureen Italiano, LCSW-R
Deputy Director Quality & Risk Management
Melinda Jean-Louis, MSED, LMHC
Chief Nursing Officer
Nkechi Osuji MSN, BSN, RN, CCM
Director Psychiatry
Eleonora Stotland, MD
South Beach Psychiatric Center provides intermediate level inpatient services to persons living in western Brooklyn, southern Staten Island, and Manhattan south of 42nd Street.
The Center has a unit with dedicated beds for monolingual Chinese persons from Staten Island, Brooklyn, Queens, and Manhattan who are in need of intermediate care.
The Center has 1 inpatient Children and Youth unit serving ages 12 to 18.
Acute inpatient care is the responsibility of the following co-providers:
Woodhull Medical Center
Coney Island Hospital
Maimonides Medical Center
RUMC
Staten Island University Hospital
NYU Langone
Kings County Hospital Center
New York Presbyterian Westchester
Wellness and Recovery Services
Wellness and Recovery Services help consumers in learning and understanding their disability/illness. Through strong emphasis on rights, recovery, and rehabilitation, consumers view their disabilities as manageable from the earliest possible moment. Over time, consumers become engaged in activities which are normative in our society, such as work. WRS focuses on skill building, cognitive assessment/remediation, and self help as tools for increasing success and satisfaction in self-determined goals. Active treatment and services are based on the philosophy that self help, empowerment, and advocacy are important components of recovery. An array of services are offered at every site including mutual support, assistance with problems of daily living, cognitive remediation, DBT) (Dialectical Behavioral Therapy), CT-R (Recovery Oriented Cognitive Therapy) and Peer Support and Employment services. Dialogues on a wide range of topics including Hope, Empowerment, Recovery, Respect, and Friendship are also offered.
Services are provided via a network of Community Mental Health Centers throughout western Brooklyn and Staten Island. SBPC outpatient care is integrated, cost effective, and consumer-centered. Pharmacotherapy, individual and group therapy, and all other necessary treatment services are part of a comprehensive package that emphasizes wellness and recovery. Other services also include co-occurring substance abuse services and family support services.
Specific site locations for geographic and specialized programs are as follows:
Community Mental Health Centers
Bensonhurst
8620 18th Avenue
Brooklyn, New York 11214
Phone: (718) 256-8818
Fax: (718) 234-2314
Bensonhurst ACT Team
8620 18th Avenue
Brooklyn, New York 11214
Phone: (718) 234-2144
Fax: (718) 234-2314
Coney Island
626 Sheepshead Bay Road
Brooklyn, New York 11224
Phone: (718) 946-2600
Fax: (718) 265-0430
Elm Place
25 Elm Place
Brooklyn, New York 11201
Phone: (718) 875-1420
Fax: (718) 875-5496
Mapleton
1083 McDonald Avenue
Brooklyn, New York 11219
Phone: (718) 421-7444
Fax: (718) 421-7229
South Richmond ACT TEAM
777 Seaview Avenue
Staten Island, New York 10305
Phone: (718) 668-8050
Fax: (718) 668-8010
Intensive Case Management (Care coordination)
777 Seaview Avenue
Staten Island, New York 10305
Phone: (718) 668-8061
Fax: (718) 668-8070
OceanView Lodge
777 Seaview Avenue
Staten Island, New York 10305
Phone: (718) 667-2633
Fax: (718) 667-2323
Children and Youth Outpatient Sites:
Staten Island Children and Youth Day Treatment Center
777 Seaview Avenue
Staten Island, New York, 10305
Phone: (718) 667-2691
Fax: (718) 668-8054
Area Served
Staten Island and the Greater NYC Region
Age Groups Served
Children and Youth ages 12-18. Adult ages 18+