Pilgrim Psychiatric Center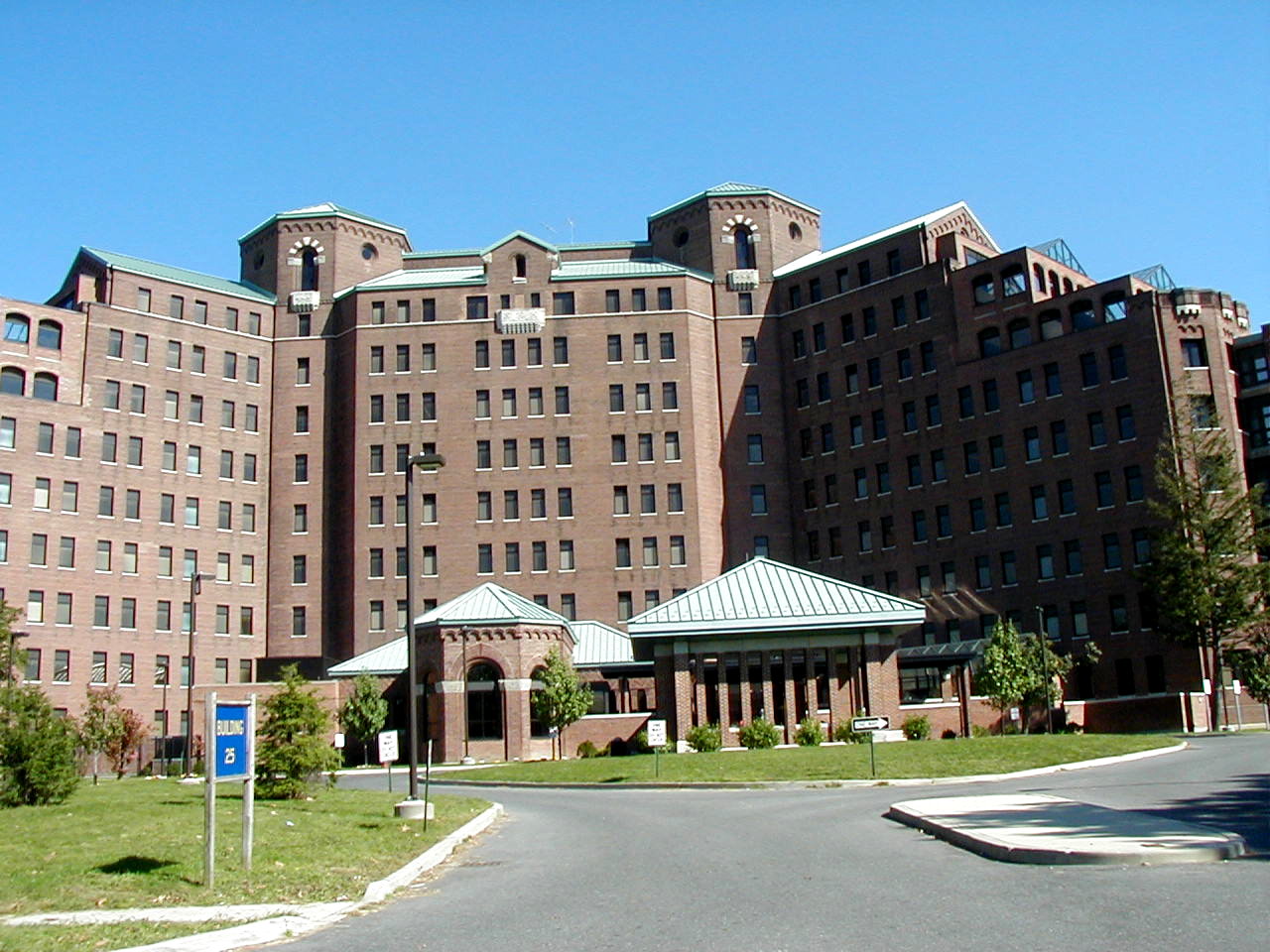 Address:
998 Crooked Hill Road
West Brentwood, NY 11717–1087
Driving Directions
Phone: (631) 761–3500
Fax: (631) 761–2600
E–Mail: Pilgrim Psychiatric Center
About Pilgrim Psychiatric Center
Long Island and the Greater NYC Region
Pilgrim State Hospital was created by the Legislature in 1929. It was named for Dr. Charles W. Pilgrim, Commissioner of Mental Health in the early 1900s. The hospital opened for the care and treatment of patients on 825 acres with 100 patients on October 1, 1931. Nine months later, 2,018 patients were hospitalized at Pilgrim. The census rose to its peak in 1954, with 13,875 patients.
Pilgrim was the largest facility of its kind in the world when it was built. The hospital was an independent community that included its own:
electric and heating plants
sewage system
fire and police departments
courts
church
post office
cemetery
athletic fields
greenhouse
Over time, as more patients were discharged and greater support and services became available in the community, there wasn't a need for such large facilities.
Following the trend, Kings Park Psychiatric Center and Central Islip Psychiatric Center were consolidated and relocated to the Pilgrim campus in the Fall of 1996. The following Fall, those facilities were merged into Pilgrim Psychiatric Center under one name.
Pilgrim PC provides a continuum of inpatient and outpatient psychiatric services. The campus includes several residential agencies including:
Central Nassau Guidance Center and Transitional Services
Charles K. Post Addiction Treatment Center
Phoenix House, a residential treatment center for those with substance abuse diagnosis
Pilgrim operates four outpatient treatment centers and one ACT Team throughout Suffolk County.
Inpatient Services offer a wide variety of treatment options within two modern complexes. Treatment focus:
Rapid recovery with symptom reduction
Programs that develop skills to manage psychiatric illness and better function in the community
Active discharge planning and support for individuals returning to community living
Multi–disciplinary teams provide treatment in individual and group formats. On–ward treatment spaces reflect state–of–the art design and a therapeutic environment. Off–ward program and recreational space are available within each building.
There are 11 inpatient units including 3 admission units, 2 geriatric units (1 admission), and 6 Psychiatric Rehabilitation units.
Regular Visiting Hours
Monday to Thursday: 6-7pm
Weekends and Holidays: 2-3pm
Certain restrictions apply with regard to items brought when visiting patients. Visitors should call the unit personnel prior to the visit for further information on this policy.
Special arrangements for visiting may be considered by contacting the unit Social Worker or Treatment Team Leader.
Intensive Treatment Unit Visiting Hours
Monday to Thursday: 6-7pm
Weekends and Holidays: 2-3pm
Certain restrictions apply with regard to items brought when visiting patients. Visitors should call the unit personnel prior to the visit for further information on this policy.
Special arrangements for visiting may be considered by contacting the unit Social Worker or Treatment Team Leader.
Quality Report
Pilgrim is accredited by the Join Commission. We are in compliance with all applicable Behavioral Healthcare and Hospital Standards.
You can access Pilgrim PC's Joint Commission Quality Report. Visit www.qualitycheck.org and search for Pilgrim Psychiatric Center.
To report concerns about patient safety and quality of care, contact Pilgrim's Quality Management Department at (631)761-2912.
We provide a comprehensive array of treatments and services that inspire people with unique mental health needs to experience hope, self-determination and success in their lives.
It is the policy of Pilgrim Psychiatric Center to provide services that are culturally sensitive and linguistically competent.
We deliver treatment services in a manner compatible with preferences that reflect a patient's:
Personal values
Beliefs
Preferred language
Cultural, ethnic, and/or religious heritage
Empathetic and respectful communication is vital to the delivery of our services. Together, we determine an individual's language needs before admission. If they need interpretive or assistive listening devices, we provide the service during the admission process.
Active Treatment and Program Activities
Centralized Treatment Programs provide active treatment groups within a lesser restrictive environment. The programs aim to help patients get the skills needed to become ready for discharge and successful in the community.
The Treatment and Learning Center (TLC) and Wellness Center is a daily program offering classes in many areas of recovery, including

medication education,
social skills training,
constructive use of leisure time,
self-management skills, and
related group sessions

A model apartment setting assists patients in community living preparation.
The MSTE ROOM (multi-sensory therapeutic environment)
is a room that brings together a variety of multi-sensory equipment in one place to stimulate senses at the desired level. This area promotes feelings of well-being. We use it in treatment to promote:
choice
interaction
relaxation
The patient is the one who sets the tone for each session as the staff help the development of self-regulatory skills.
Rehabilitation Services provide treatment activities aimed at developing independence. These services improve skills in the areas of:
coping/stress management
social and interpersonal communication
wellness, and cognitive enhancement
Concentrated services are available once discharged back to the community.
Our Nature Center has a greenhouse and surrounding gardens where patients can take part in horticulture therapy.
The Barn hosts an Animal–Assisted Therapy and Activities. We use the interactions between patients and farm animals as therapeutic treatment.
Music Therapy promotes health using music experiences and the relationships. Sessions are provided on an individual or group basis. Techniques include vocalizing with individuals using various instruments, song-writing, and musical improvisation.
The Discharge Academy gives members the opportunity to practice daily living skills before discharge. The program takes place off-unit in a model apartment and kitchen environment. An educational session is followed by hands-on practice. Individuals graduate at the end of the program.

Barn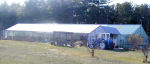 Nature Center Greenhouse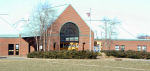 This state–of–the art facility hosts our:
Swimming Pool
Bowling Alley
Gymnasium
Game Room
Fitness and Exercise Room
Model apartment and kitchen program areas
Computer Training area
Outdoor courtyard garden area
Library
The Center is open daily Monday to Friday, select Evenings, and Saturday Mornings.
We use classrooms for patient education, treatment groups, learning and meeting space. There is a large auditorium available for staff presentations, conferences, and patient activities.
The Pilgrim campus hosts The Long Island Psychiatric Museum. It offers a collection of memorabilia, artifacts, and photos representing the history of the Pilgrim Psychiatric Center.
The Museum is accessible to the public by appointment only. Hours of operation are limited. For further information, please call (631)761-3805.
Psychiatry
Nursing
Psychology
Social Work
Medicine
Rehabilitation
Pharmacy
Infection Control
Dietary and Nutrition Services
Therapeutic Recreation
Patient Education Services
Volunteer Services
Pastoral Care
Peer Services
The Pilgrim Psychiatric Center's Internship Program is accredited by:
American Psychological Association
Commission on Accreditation
750 First Street, N.E.
Washington, D.C. 20002–4242
(202) 336–5979
This one-year (Sept. – Sept.) experience is for Doctoral candidates in Psychology. It follows an apprenticeship/practitioner model.
This internship provides intensive training in the core skills of clinical psychology. Within a state psychiatric hospital, students work with severely and persistently mentally ill patients. The population we serve consists of individuals with severe impairments, whose diagnoses include:
schizophrenia
affective and anxiety disorders
substance abuse problems
personality disorders
Interns work side by side with seasoned clinicians. They have a variety of assignments and opportunities to observe and treat illnesses, witness the effects of treatment, and assist the patient towards therapeutic re–integration into the community (i.e., discharge).
Learn more about the
Doctoral Psychology Internship Program
. If you require additional assistance in viewing the document, you can write or call: Telephone: (631) 761–2399, Fax: (631) 761–3770.
APA/Association of Psychology Postdoctoral and Internship Centers (APPIC) Approved
This one-year (June-July) clinical experience is an APA accredited program for 3rd or 4th year Doctoral candidates in Psychology. The program follows an apprenticeship/practitioner model.
Externs are considered volunteers as they are unpaid and have 16-hour weekly schedules.
Learn more about the Doctoral Psychology Externship Program. If you require additional assistance in viewing the document, you can write or call: Jennifer May, Ph.D. at 631-761-3275.
At Pilgrim Psychiatric Center, the families of our patients are considered an integral part of the treatment process. Family involvement is welcome.
The facility provides the following Family Support Services:
Family Advisory Board: Comprised of relatives of past and present Pilgrim Psychiatric Center patients. The Board discusses issues related to patient care and treatment. Issues raised by the Board are shared with the hospital administration. The Board plans annual events, such as the Family and Friends Open House and the holiday gift distribution project.
Family and Friends Center: The Family and Friends Center is a visiting area in Building 45, 1st floor. When available, patients and their relatives or friends can enjoy a visit in a home–like atmosphere.
Specialty Services for Inpatients
Substance Abuse Services: Counseling sessions focus on developing coping skills to manage substance use that impacts functioning.

Geriatric Services: Age–specific services for individuals aged 65 and above

Dialectical Behavior Therapy (DBT): inpatient program for individuals with Borderline Personality features.

DBT, S (Substance Abuse): weekly inpatient program emphasizing the use of DBT skills to help in recovery for substance abuse.

Intensive Treatment Unit (ITU): short–term specialized services for patients needing extensive individualized treatment for stabilization.

Bridger Program: provides linkage and support for inpatients with long hospital stays when the possibility of discharge becomes imminent.

Polydipsia Program: provides specialized care and treatment for patients who display excessive water drinking, water intoxication, and/or hyponatremia, a potentially life-threatening loss of sodium. We provide psychoeducation to increase knowledge and awareness about the disorder.

CONNECTIONS Program: For consumers who are transitioning from the inpatient to outpatient setting. It aims to provide effective transitional/community supports based on individual needs and recovery goals.
Pilgrim PC operates a range of outpatient services throughout the community. Services include:
recovery services
treatment services
evaluation, medication, counseling and therapy
vocational services
co-occurring disorder services
crisis intervention
psycho-education
We have Biannual Family Gatherings at each clinic. They offer
support for clinic staff and other family members
orientation to services available at our clinics
education about mental health issues
For detailed information call the number listed for each location.
Clinic Name
Services
Buckman Center - Las Casita
998 Crooked Hill Road
West Brentwood, NY 11717
(631) 761–2289
Serving Northwest Suffolk County
Hispanic track providing services in the Spanish language
Western Suffolk Center - Building 56
998 Crooked Hill Road
West Brentwood, NY 11717
(631) 761–2082
Serving Western Suffolk County
Yaphank Center
31 Industrial Blvd.
Medford, NY 11763
(631) 924–4411
Serving Brookhaven Township, Suffolk County
Geriatric track providing services to the Geriatric population.
Assertive Community Treatment Team (ACT)
3 Grove Avenue
Patchogue, NY 11772
(631) 475–7108
Serving Brookhaven Township, Suffolk County
Intensive psychiatric outreach services.
Peconic Center
550 E. Main Street Suite 103
Riverhead, N.Y. 11901
(631) 369–1277
Serving Eastern Suffolk County

Specialty Services for Outpatients
The Intensive Case Management Program: Health Home Care Management to high need individuals with Serious Mental Illness (SMI) in Nassau and Suffolk Counties.
The Program serves the Adult SMI population eligible for Health Home Plus services (HH+).
The Program has a Health Support Team, Bridgers Program, Medication Grant Program, Critical Time Intervention (CTI) Project, and Peer Services.
The teams work to ensure smooth, un-interrupted Transition of Care for members. They address any Gaps in Care issues members may have.
The Program staff:
identify Health and Recovery Plan (HARP) eligible members
conduct assessments
process referrals
Crisis Hotline: provides 24-hour:
crisis phone intakes
referrals
contacts for psychiatric crisis needs
Mobile Crisis Teams: Outreach services in Suffolk County for psychiatric emergencies. The Team provides:
on–site assessment
counseling
referrals
hospitalization, as needed
The Mobile Integration Team: Community-based treatment and support services. The program provides an intensive level of care that is community-based and occurs in the individual's home or another preferred community setting. Program goals:
support efforts to maintain the person in their natural environment
provide immediate access to treatment services to stabilize crisis situations
reduce demand on emergency departments and inpatient hospital services
Residential programs offer a unique set of advantages to consumers. They promote empowerment and self-determination, while ensuring care and safety.
Crisis Residence: This on–campus 17 bed residence provides temporary housing. It is an alternative to admission for those experiencing housing or other situational crises. Residents receive psychiatric services from Pilgrim's community programs or from other providers as needed.
Family Care Program: These homes are for consumers who have functional limitations and need continual supervision. Home services range from a family like setting to the more intensive "personal care" homes. Homes are located throughout Nassau and Suffolk County.
State Operated Community Residences (SOCR): SOCR's provide transitional placement. Homes range from 10 beds to 24 beds, supervised by staff 24 hours/day. The goals of SOCR's is to improve independent living skills and enable individuals to move to a less restrictive setting in the community.
Community Transitional Support (CTS): CTS promotes:
successful independent living,
community inclusion,
empowerment, and
recovery.
CTS provides person-centered services to assist individuals leaving an inpatient unit or SOCR in their transition to alternative housing.
Comments or questions about the information on this page can be directed to the Pilgrim Psychiatric Center.