Pilgrim Psychiatric Center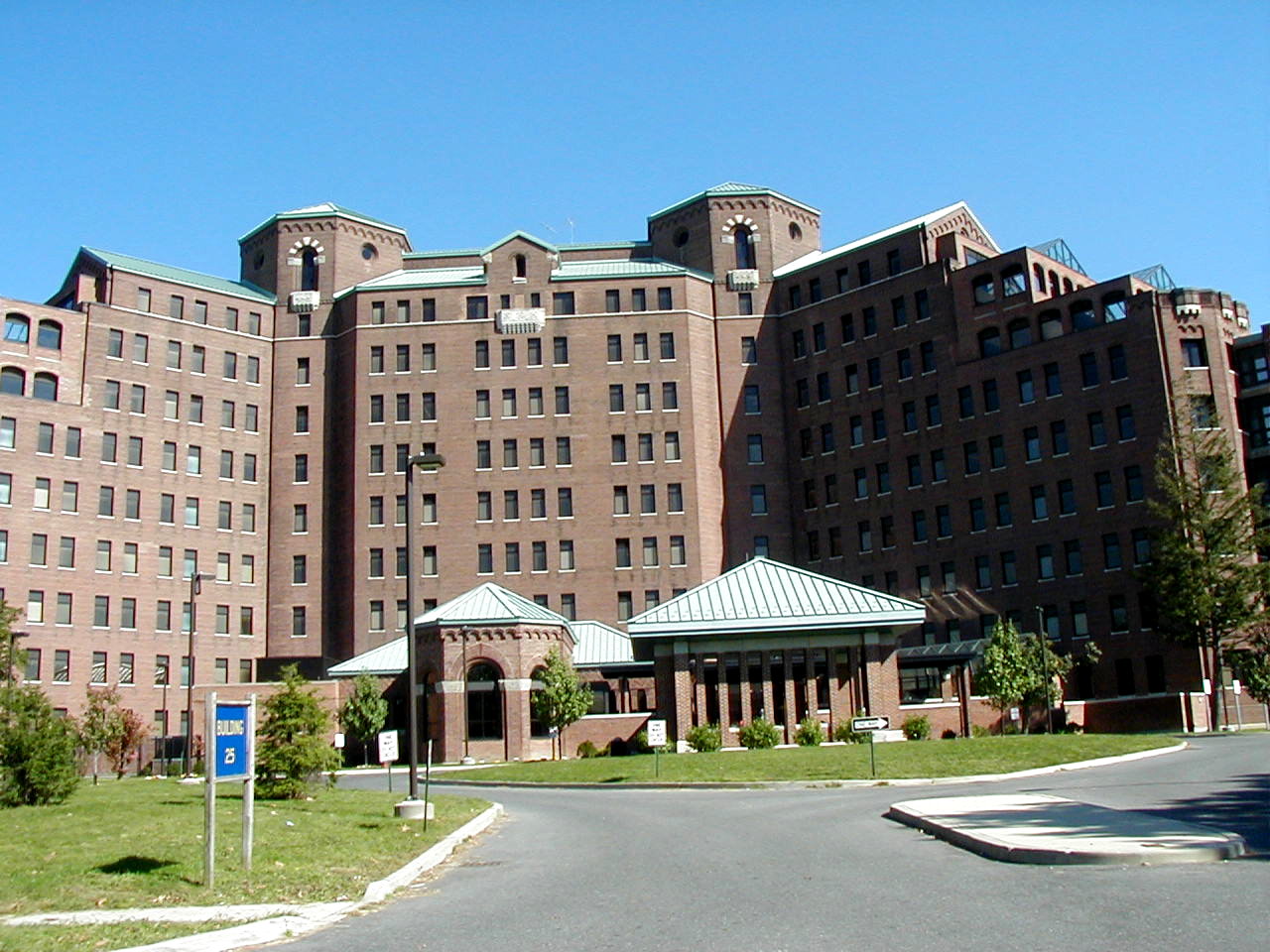 Address:
998 Crooked Hill Road
West Brentwood, NY 11717–1087
Driving Directions
Phone: (631) 761–3500
Fax: (631) 761–2600
E–Mail: Pilgrim Psychiatric Center
About Pilgrim Psychiatric Center
Long Island and the Greater NYC Region
In 1927, New York Governor Alfred Smith, with public support, pressed the legislature to appropriate money to obtain a minimum of 10,000 beds needed to relieve overcrowding and treat the increasing numbers of people who would need treatment in a mental institution.
Such a big hospital had to be located out in the country where land was cheap. One thousand acres in Brentwood was chosen for this reason.
Pilgrim State Hospital was created by the Legislature in 1929 and named for Dr. Charles W. Pilgrim, Commissioner of Mental Health in the early 1900s. The hospital officially opened for the care and treatment of patients on 825 acres with 100 patients transferred from Central Islip State Hospital on October 1, 1931. Nine months later, 2,018 patients were hospitalized at Pilgrim. The census rose to its peak in 1954, with 13,875 patients.
Pilgrim was the largest facility of its kind in the world when it was built. The hospital community was independent in that it had its own water works, electric light plant, heating plant, sewage system, fire department, police department, courts, church, post office, cemetery, laundry, store, amusement hall, athletic fields, greenhouses, and farm.
Over time, as increasing numbers of patients were able to be discharged and greater support and services became available in the community, the need for such large facilities to treat the mentally ill diminished. Following the trend, Kings Park Psychiatric Center and Central Islip Psychiatric Center were consolidated and relocated to the Pilgrim campus in the Fall of 1996. The following Fall, those facilities were merged into Pilgrim Psychiatric Center under one name.
Pilgrim Psychiatric Center provides a continuum of inpatient and outpatient psychiatric services. The campus includes several residential agencies including:
Central Nassau Guidance Center and Transitional Services
Charles K. Post Addiction Treatment Center
Phoenix House, a residential treatment center for those with substance abuse diagnosis
Pilgrim operates four outpatient treatment centers and one ACT Team throughout Suffolk County.
Inpatient Services offer a wide variety of treatment options within two modern complexes. Treatment focus:
Rapid recovery with symptom reduction
Programs that develop skills to manage psychiatric illness and better function in the community
Active discharge planning and support for individuals returning to community living
Multi–disciplinary teams provide treatment in individual and group formats. On–ward treatment spaces reflect state–of–the art design and a therapeutic environment. Off–ward program and recreational space are available within each building.
There are 12 inpatient wards including 3 admission wards, 2 geriatric wards (1 admission), and 7 Psychiatric Rehabilitation wards.
Regular Visiting Hours
Monday to Friday: 3 p.m. to 4:30 p.m., 6 p.m. to 8 p.m.
Weekends and Holidays: 10 a.m. to noon, 1 p.m. to 3 p.m., 6 p.m. to 8 p.m.
Certain restrictions apply with regard to items brought when visiting patients. Visitors should call the ward personnel prior to the visit for further information on this policy.
Intensive Treatment Unit Visiting Hours
Monday, Wednesday, Friday: 6 p.m. to 8 p.m.
Tuesday, Thursday: 3 p.m. to 4:30 p.m.
Saturday, Sunday: 1 p.m. to 3 p.m.
Sunday and Holidays: 6 p.m. to 8 p.m.
Quality Report
Pilgrim is accredited by the Join Commission. We are in compliance with all applicable Behavioral Healthcare and Hospital Standards. Pilgrim has been recognized as a Top Performer on Key Quality Measures in the past.
You can access Pilgrim PC's Joint Commission Quality Report. Visit www.qualitycheck.org and search for Pilgrim Psychiatric Center.
To report concerns about patient safety and quality of care, contact Pilgrim's Quality Management Department at (631)761-2912.
We provide a comprehensive array of treatments and services that inspire people with unique mental health needs to experience hope, self-determination and success in their lives.
We envision a mental health system that is driven by the goals and aspirations of the people we serve and provides a healing experience through exceptional collaborative treatment.
Professional and personal growth and full accountability for our actions are essential.
When we work together as a team, we can accomplish more than any one person can accomplish alone.
Every individual can lead a life with meaning and purpose.
Every person is different, each shaped by unique life experience. We recognize that differences in age, race, gender, nationality, sexual orientation, physical ability, thinking style, and background bring richness to our work environment. Our differences help us connect better to the health needs of the people we serve.
We believe that attracting, developing, and retaining a base of employees that reflect the diversity of our customers is essential to success.
Integrated and evidenced based mental health care helps individuals maximize resilience and achieve wellness.
Interactions with individuals must be engaging, empowering, empathic and tolerant and respectful.
It is the policy of Pilgrim Psychiatric Center to provide services that are culturally sensitive and linguistically competent.
We deliver treatment services in a manner compatible with preferences that reflect a patient's:
Personal values
Beliefs
Preferred language
Cultural, ethnic, and/or religious heritage
Empathetic and respectful communication is vital to the delivery of our services. Together, we determine an individual's language needs before admission. If they need interpretive or assistive listening devices, we provide the service during the admission process.
Active Treatment and Program Activities
In addition to on–ward treatment, Pilgrim offers a variety of off–ward locations for treatment, recreation, and programming. Alternate treatment environments are available to address the needs of our patients.
Centralized Treatment Programs provide a variety of active treatment groups within a lesser restrictive environment and using additional available resources. The Treatment and Learning Center is a daily program offering classes in many areas of recovery including: medication education, social skills training, constructive use of leisure time, self-management skills, and related group sessions aimed at helping patients acquire the skills needed to become ready for discharge and function successfully in the community. A model apartment setting assists patients in community living preparation. Professional staff uses discussion groups, visual aids, and multi-media presentations to engage groups in the learning process.
The MSTE ROOM (multi-sensory therapeutic environment) is a dedicated room that brings together a variety of multi-sensory equipment in one place to stimulate senses at the desired level. This area promotes feelings of well being and is utilized in treatment to promote choice, interaction, and relaxation through planned sensory stimulation. The patient is the one who sets the tone for each session as the staff facilitate the development of self-regulatory skills.
Rehabilitation Services provides a variety of treatment activities aimed at assisting the individual to improve and maximize independent functioning and consider the role of work in one's life. Through group and individual counseling, consumers set goals, develop motivation and engagement, and improve skills in the areas of coping/stress management, social and interpersonal communication, wellness, and cognitive enhancement. Concentrated services such as vocational counseling, assessment, job exploration and readiness preparation, as well as, job placement can be provided once discharged back to the community.
The Nature Center consists of a greenhouse and surrounding gardens where patients have the opportunity to participate in horticulture therapy.
The Barn hosts an Animal–Assisted Therapy and Activities program in which therapeutic treatment takes place using the interactions between patients and farm animals as the intervention.
Music Therapy involves a systematic process of intervention wherein the therapist helps the individual to promote health using music experiences and the relationships that develop through them to enable a therapeutic milieu. Sessions are provided on an individual or group basis and techniques include vocalizing with individuals using various instruments, song-writing, and musical improvisation.
The Discharge Academy Program is designed to provide members with the opportunity to practice daily living skills prior to discharge. These skills will enhance the ability to live successfully in the community and to prepare for more independent living. The program takes place in a model apartment environment where an educational session is followed by hands-on practice of skills learned. Individuals graduate at the end of the program and a new session begins with others readying for discharge.

Barn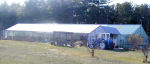 Nature Center Greenhouse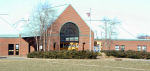 The Rehabilitation Center provides centralized space for many off–ward programs. This state–of–the art facility hosts a Swimming Pool, Bowling Alley, Gymnasium, Game Room, Fitness and Exercise Room, and Library and is available daily Monday to Friday, select Evenings, and Saturday Mornings. Classrooms for patient education, treatment groups, ceramic studio, kitchen areas, and meeting space are utilized here. A large Auditorium (capacity 289) is used for staff presentations, conferences, and patient activities. Recent movies are programmed and broadcast weekly for patients' viewing during evening and weekend hours and are also shown for direct viewing on a 22' long movie theater style screen with surround sound.
The Long Island Psychiatric Museum is located on the Pilgrim campus and offers a vast collection of memorabilia, artifacts, and photos representing the history of the three Long Island hospitals (Kings Park, Central Islip, Pilgrim) that were active at one time and have since been merged with Pilgrim Psychiatric Center.
The Museum is accessible to the public by appointment only. Hours of operation are limited. For further information, please call (631)761-3805.
Professional Departments Include:
Psychiatry – pharmacological treatment and individual/group support and counseling provided by M.D. staff. A schedule of weekly Grand Rounds provides presentation by recognized leaders in the field of new and current information for our Psychiatric staff.
Nursing – The provision of nursing services is an integral part of the overall facility organization and mission. Psychiatric nursing is a specialized area of nursing practice employing theories of human responses and the knowledge and skill of nursing intervention. We are committed to the holistic approach to patient care, viewing the individual with a multiplicity of interrelated and independent needs (physical, spiritual, psychological, and economic), and through the utilization of Nursing Process. The Professional Nurse assists the patient in addressing both psychiatric and physical self–care needs. Our conceptual framework embraces the collaborative efforts of both patient and nurse to meet self care deficits resulting from the patient's illness.
Psychology – provides testing and evaluation, treatment planning, consultation, and individual and group counseling.
Social Work – Certified and paraprofessional staff provide assessment, treatment planning, individual, group and family counseling, discharge planning and placement.
Medicine – Routine physical assessment and medical care and referral for special services, care and consultation is provided, either in the facility's medical and Dental Clinics or in the local community. EMSS, the emergency medical service system, provides BLS/Intermediate Cardiac Response. All of our physicians and nurses are AHA/BLS certified.
Rehabilitation –Groups and programs are provided by Rehabilitation Counselors and Assistants to enable the individual to address treatment issues, gain skills necessary for successful community living, and increase independent functioning. Treatments Groups focus on goal-setting and skills development, career development, work behaviors, and soft skills necessary for employment.
Pharmacy – Medications are dispensed by our two pharmacies located in each patient building, using a computerized patient profiling system which includes a medication intervention program.
Infection Control – provides surveillance, prevention, and control of nosocomial infections.
Dietary and Nutrition Services – Registered Dieticians assess patients' nutritional needs in consultation with medical staff and are available for individual counseling and consultation. Patients are provided with three well–balanced meals and snacks daily.
Therapeutic Recreation – Recreation Therapists and paraprofessional staff provide active treatment interventions and therapeutic leisure activities with patients. Community trips, holiday celebrations, and special activities are organized. Emphasis is on assisting individuals to better engage with their community through social and recreational pursuits and fostering community re-integration.
Patient Education Services – Licensed teachers provide academic remediation via individual and classroom setting and TASC exam preparation and testing.
Volunteer Services – The facility is fortunate to have valuable individuals and students from the local community and surrounding schools to work with our population and assist staff in many areas. Varying VFW Posts and church groups provide activities for our individuals and host them at their location.
Pastoral Care – Addresses the spiritual and religious needs of the patients, their families, and the staff of Pilgrim Psychiatric Center. The Pastoral Care Department ensures that every patient in the facility has access to pastoral care and other spiritual services.
Peer Services – Peer Specialists work with individuals and the treatment team in various capacities throughout inpatient, outpatient, and residential services by offering their unique lived experience to assist individuals in the recovery process. Peer specialists facilitate the development of self-help and community living skills, support systems, coping strategies, and increased hope and self-esteem that are central to recovery from a psychiatric disability.
American Psychological Association
Commission on Accreditation
750 First Street, N.E.
Washington, D.C. 20002–4242
(202) 336–5979
This one-year (Sept. – Sept.) experience is for Doctoral candidates in Psychology which follows an apprenticeship/practitioner model.
This internship provides intensive, experiential training in the core skills of clinical psychology, within a state psychiatric hospital, working with severely and persistently mentally ill patients in the public sector. The population we serve consists mainly of individuals with severe impairments, whose diagnoses include:
schizophrenia,
affective and anxiety disorders,
substance abuse problems,
and personality disorders.
Interns work side by side with seasoned clinicians. They have a variety of assignments and opportunities to observe and treat serious and persistent mental illnesses, witness the effects of treatment, and assist the patient towards therapeutic re–integration into the community (i.e., discharge).
Learn more about the Doctoral Psychology Internship Program. If you require additional assistance in viewing the document, you can write or call: Telephone: (631) 761–2399, Fax: (631) 761–3770.
This one-year (June-July) clinical experience is an APA accredited program for 3rd or 4th year Doctoral candidates in Psychology.  The program follows an apprenticeship/practitioner model.
Externs are considered volunteers as they are unpaid and have 16-hour weekly schedules.
Learn more about the Doctoral Psychology Externship Program. If you require additional assistance in viewing the document, you can write or call: Jennifer May, Ph.D. at 631-761-3275.
At Pilgrim Psychiatric Center, the families of our patients are considered an integral part of the treatment process and family involvement is welcome.
The facility provides the following Family Support Services:
Family Advisory Board: The Family Advisory Board is comprised of a group of relatives of past and present Pilgrim Psychiatric Center patients. The Family Advisory Board meets monthly with the Coordinator of Family Support Services to discuss issues related to overall patient care and treatment. Issues raised by the Family Advisory Board are communicated to the hospital administration. The Coordinator and the Family Advisory Board also plan annual events, such as the Family and Friends Open House, and the holiday gift distribution project.
Family and Friends Center: The Family and Friends Center is currently located in Building 45, 1st floor. It is a visiting area where patients and their relatives or friends may enjoy a visit in a home–like atmosphere. There is a stereo, televisions, a game table, coffee–maker and microwave oven available for the convenience of families .
Specialty Services for Inpatients
Specialized treatment and services are offered for those patients with varying needs, as follows:
Substance Abuse Services: group and individual counseling assisting individuals to gain knowledge and insight and develop coping skills to manage use of substances that regularly impact on functioning.
Geriatric Services: Age–specific services for individuals age 65 and above reflective of treatment techniques that address changes in physical, psychosocial and cognitive abilities.
Dialectical Behavior Therapy (DBT): an inpatient program for individuals with Borderline Personality features that provides individual therapy and group skills training in stress tolerance, emotional regulation, and interpersonal effectiveness.
DBT,S (Substance Abuse): weekly inpatient program emphasizing the use of DBT skills to help in recovery for substance abuse.
Intensive Treatment Unit (ITU): offers short –term specialized services to those patients who require extensive individualized treatment interventions to achieve a state of equilibrium and who require additional safeguards for their personal well–being until they are able to function within a more standard treatment format. Modalities include individual and groups psychotherapies, as well as behavioral programs. After stabilization of the target behaviors, patients are returned to their regular treatment unit. Treatment to individuals who are referred by the court system for observation is also provided.
Bridger Program: this program provides linkage and support for inpatients with long hospital stays when the possibility of discharge becomes imminent. Dedicated "bridger" staff work with patients to enable them to move into the community with greater hope, confidence and an increased probability of success.
Polydipsia Program: a program providing specialized care and treatment for patients who display excessive water drinking, water intoxication, and/or hyponatremia, a potentially life threatening loss of sodium. The focus is on a ward–based token economy system, with additional psychotherapy and psychoeducation to increase knowledge and awareness about the disorder, and behavior therapy to increase skills needed to manage the condition.
CONNECTIONS Program: this program involves consumers who are transitioning from the inpatient to outpatient setting and aims to establish a relationship with the patient necessary to providing effective transitional/community supports which are based on individual needs and recovery goals. Using person-centered planning, program staff meet with the resident for a four-week period. Collaboration between the staff of the Connections Program, residence staff, and client is encouraged and essential to making the successful transition to community living.
Pilgrim Psychiatric Center operates a broad range of outpatient services both on campus and throughout the community in Suffolk County. Sites are staffed with psychiatrists, social workers, psychologists, community mental health nurses, rehabilitation and recreation staff, peer specialists, and paraprofessional staff. Services available include: recovery services, treatment services -evaluation, medication, counseling and therapy, vocational services, co-occurring disorder services, life enrichment, peer run services, crisis intervention, psycho-education.
Biannual Family Nights are held at each clinic to offer support from clinic staff and other family members, orientation to services available at our clinics, and education about mental health issues.
For detailed information on intake, treatment and social support services, call the number listed for each location.
Clinic Name
Services
Buckman Center - Building 47
998 Crooked Hill Road
West Brentwood, NY 11717
(631) 761–2289
Serving Northwest Suffolk County
Hispanic track providing services in the Spanish language
Western Suffolk Center - Building 56
998 Crooked Hill Road
West Brentwood, NY 11717
(631) 761–2082
Serving Western Suffolk County
Yaphank Center
31 Industrial Blvd.
Medford, NY 11763
(631) 924–4411
Serving Brookhaven Township, Suffolk County
Geriatric track providing services to the Geriatric population.
Assertive Community Treatment Team (ACT)
3 Grove Avenue
Patchogue, NY 11772
(631) 475–7108
Serving Brookhaven Township, Suffolk County
Intensive psychiatric outreach services.
Peconic Center
550 E. Main Street Suite 103
Riverhead, N.Y. 11901
(631) 369–1277
Serving Eastern Suffolk County

Specialty Services for Outpatients
The Intensive Case Management Program provides an intensive level of supervision to those clients who are frequent system users and have specialized needs in the community. This program serves as a support and follows clients throughout outpatient and inpatient admissions.
The Case Management Program is a "step–down" program for those clients who need support to function in the community but do not require the level of intensity provided by the ICM program.
Both Case Management Programs serve consumers in the community but may follow them back into the facility if re–hospitalization becomes necessary.
A crisis Hotline provides 24 hour crisis phone intakes, referrals, and contacts after business hours for psychiatric crisis needs. The Crisis Team operates Monday to Friday, 10 am to 6:30 pm and can be reached by calling the Suffolk County Crisis Hotline @ (631)952-3333.
The Mobile Crisis Teams provide outreach services in Suffolk County for psychiatric emergencies. The Team provides on–site assessment, counseling, referral, and hospitalization, as needed.
The Mobile Integration Team provides community-based treatment and support services by licensed clinicians, non-licensed para-professionals, and Peers. The goal of the program is to: support efforts to maintain the person in his or her natural environment, provide immediate access to treatment services designed to stabilize crisis situations, reduce environmental and social stressors, and effectively reduce demand on emergency departments and inpatient hospital services. The program is designed to provide an intensive level of care that is fully community-based and occurring in the individual's home environment or another preferred community setting.
Residential programs range from the semi–independent living of the State Operated Community Residence, to the shorter stay Crisis Residence Units, to the home care of the Family Care program. Each program offers a unique set of advantages to consumers, promoting empowerment and self determination, while ensuring care and safety.
Crisis Residence: This on–campus 17 bed residence provides temporary housing and is an alternative to admission for those consumers who are experiencing housing or other situational crises. Residents receive psychiatric services from Pilgrim's community programs or from other providers as needed.
Family Care: For those consumers who have functional limitations and who need supervision on a continual basis, the homes provided by the Family Care Program offer a family setting. Home services range from a family like setting to the more intensive "personal care" homes for those who need assistance with the most basic aspects of caring for themselves. Homes are located throughout Nassau and Suffolk County.
State Operated Community Residences (SOCR) – sponsored by the New York State Office of Mental Health and Pilgrim Psychiatric Center, eleven residences throughout Nassau and Suffolk County provide transitional placement. Homes range from 10 beds to 24 beds and are supervised by staff 24 hours/day. Services are provided to improve independent living skills and enable individuals to move to a less restrictive setting in the community.
Comments or questions about the information on this page can be directed to the Pilgrim Psychiatric Center.