Sagamore Children's Psychiatric Center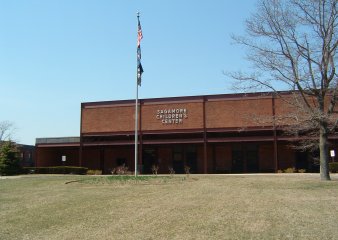 Address:
197 Half Hollow Road
Dix Hills, NY 11746
Driving Directions
Phone: (631) 370-1700
Fax: (631) 370-1714
E-Mail: Sagamore Children's Psychiatric Center

Sagamore's programs for youngsters and their families include inpatient hospitalization, day hospitalization, day treatment, outpatient clinic treatment, outpatient clinical support services, mobile mental health teams, crisis services, information and referral, and community training. The inpatient facility is based in Dix Hills as is the Day Hospital. Sagamore operates the Waverly Clinic in Patchogue  as well as four Day Treatment programs. Three of these are located in Suffolk County (Bellport, North Babylon, and Sayville) and one in Nassau County (Wantagh). Mobile Crisis Teams operate in Suffolk County and respond to psychiatric emergencies in homes and in schools. A liaison is present in the Family Court to assist with mental health screening.
Area Served
Nassau and Suffolk Counties on Long Island and the Greater NYC Region.
Age Groups Served
Children served are between the ages of 6 and 17. Exact age varies by program.
Clinical Services
Inpatient Treatment
Sagamore Children's Psychiatric Center's inpatient program is designed to treat seriously emotionally disturbed youngsters who require a structured inpatient program. Sagamore is an intermediate care facility that largely accepts transfers from community hospitals. Length of stay varies according to youngsters' needs. Patients are placed on inpatient units that are most compatible with their age and level of functioning. Inpatient teams of psychiatrists, pediatricians, nurses, social workers, psychologists, teachers, recreation therapists, and child care workers assure an integrated quality approach to providing a therapeutic environment. In addition, Sagamore has its own school, medical services, and extensive therapeutic recreation services. Teachers work closely with home school districts to encourage educational progress. All individuals admitted to the hospital receive a comprehensive psychiatric, medical, psychological, social, and educational assessment. Professional staff work closely with parents and involved outside agencies and practitioners develop a treatment plan based on the findings of the assessments. Family participation in the inpatient treatment is strongly encouraged and in many cases is a key factor in a successful course of inpatient hospital treatment. Therapeutic modalities include individual, family, group, and milieu treatment.
Outpatient Community Treatment
Day Treatment
Sagamore, in cooperation with the three Long Island Board of Cooperative Educational Services (BOCES) districts, provides comprehensive day treatment services at locations throughout Nassau and Suffolk counties. Day treatment is the most intensive, non-residential mental health/educational service for youngsters residing at home or in community-based residential alternatives. These professionally staffed programs are located in BOCES educational centers, have excellent teacher to student ratios along with a full complement of mental health staff. The collaborative clinical and educational staffing ensures an intensive educational/therapeutic experience on a daily basis for youngsters unable to participate in community schools because of serious emotional and/or behavioral problems. Acceptance by the youngster's school district as well as by the joint Sagamore/BOCES screening team is necessary for admission. Daily transportation to the program site is provided for by the youngster's home school district.
Intensive Day Treatment
The Day Hospital (Intensive Day Treatment) is a unique outpatient program for children and adolescents with serious emotional and behavioral difficulties. It offers many of the benefits of inpatient care but does so in a nonresidential environment. The program operates as a Partial Hospitalization Program and, as such, is designed for youngsters who without this program would likely require treatment in an inpatient setting. Youngsters at risk for hospitalization or youngsters in need of a transitional experience from hospitalization to community living are appropriate candidates for the Day Hospital. Hours of operation are Monday to Friday 8:45 a.m. to 5 p.m. and Saturday from 10 a.m. to 3 p.m. Youngsters receive the services of a full mental health team as well as an academic curriculum during their stay. Please see additional information.
Waverly Avenue Clinic
Outpatient clinic treatment is provided at a conveniently located clinic site in Patchogue and in Dix Hills on Sagamore's main campus. The clinic offers aftercare follow-up services to formerly hospitalized youngsters who have returned to full community living. Services are also available to youngsters with psychiatric conditions that place them at risk for hospitalization. The clinic offers a full range of assessment, diagnostic, and therapeutic services by mental health professionals. Individual psychotherapy, medication management, case management, and Common Sense Parenting are routinely provided at this location.
Clinical Support Services
Family Court Mental Health Services
In Suffolk County Family Courts, a clinical social worker provides mental health screening, at the request of Family Court Judges, to youngsters who are involved with court-related matters and who may require mental health services to assist them with their adjustment. The social worker will conduct mental health screenings, make treatment recommendations to the Court and to the family, and will assist with arranging those services in conjunction with the Court and the Department of Probation.
Emergency Services
Mobile Crisis Team
The Mobile Crisis Team provides assistance to youngsters experiencing emotional crisis. The Mobile Team provides a rapid response to youngsters and their families in homes, schools, or other community settings. Staff provide crisis intervention, on-site assessment, br/ief follow-up intervention, and linkage to ongoing services.
Please see our brochure * for more information.
Crisis Respite Bed Program
The Crisis/Respite Bed Program represents a joint effort among a variety of public and private child-serving agencies in Suffolk County. The program offers a temporary (up to 2 weeks), voluntary (both parent and child agree), out of home placement which provides a "cooling off" period for both the youngster and the parent(s). Suffolk County youngsters between the ages of 5 and 17, who are at risk of or are currently experiencing an emotional/behavioral crisis, are eligible. Depending upon the youngster's particular needs, placement will be in the home of a licensed family, group home, or residential setting on Long Island.
Please see our brochure *for more information.
For Families
Events of Interest
We offer lectures and workshops on topics of interest to parents. Call the Staff Development and Training Department, (631) 370-1752 for information on upcoming events. These lectures are open to all parents with no fee for attendance.
Professional Internships
Social Work
The Social Work Department at Sagamore prides itself on a long history of providing field placements in order to assist in the training of social work professional to provide mental health services to youth and their families. To this end, Sagamore currently offers field placements to second-year students in Masters of Social Work programs at the following universities: State University of New York (SUNY) at Stony br/ook; Adelphi University; New York University; Fordham University; and Columbia University. We will entertain applicants from Social Work Departments at other universities as well. All Field Supervisors are licensed social workers who have completed the Seminar in Field Instruction (SIFI) course. Our program accepts up to 10 students each year. Students are placed in a variety of inpatient and outpatient treatment and clinical support programs. For more information, please contact Sagamore's Director of Social Work at (631) 370-1834.
Psychology
Psychology Externships – The Psychology Department offers Externships to students who are full time, matriculated candidates enrolled in clinical, school, and counseling psychology program whose Externship will be used to satisfy degree requirements. Students selected for the Externship must have completed at least one year of full time graduate study and have had courses in cognitive assessment and projective testing prior to the Externship. Externs typically see a minimum of two patients and families; co-lead psychotherapy groups; complete 8 to 10 psychological assessments; participate in treatment team activities and attend a variety of training opportunities.
Please see our brochure for more information.
Recreation Therapy
The Recreation Therapy Department at Sagamore Children's Psychiatric Center provides a highly structured, field-centered and professionally supervised internship experience. The internship is based on the therapeutic recreation process as defined by the knowledge and tasks in the current National Council Therapeutic Recreation Certification Job Analysis Study. The internship experience will be a minimum of 480 hours and 12 consecutive weeks; no less than 20 hours per week or more than 45 hours per week. The intern student will be exposed to Sagamore's Inpatient Program as well as the Education and Day Hospital Programs. Internships are available for the Fall, Spring and Summer sessions.
Each student is assigned one primary supervisor with an active Certified Therapeutic Recreation Specialist certification. The Recreation Therapist (RT) intern student will attend an intensive orientation program. Subsequently, the student intern will become a member of the multi-disciplinary team, carry a caseload of patients; complete necessary documentation; plan and implement activities on a daily basis; and plan and implement a major event. For more information, please contact Sagamore's Director of Therapeutic Recreation (631) 370-1810.
Art Therapy
Art therapy internships are offered for students who are enrolled in accredited programs leading to a Masters degree in Art Therapy. The commitment for graduate interns ranges from 350 to 600 hours. Under supervision, Interns provide Art Therapy to inpatients who are referred by their primary therapists. Common tasks include patient assessment via projective art-based assessment tools; individual art therapy; and group art therapy. Interns work within a multidisciplinary team and hence have exposure to professional staff within psychiatry, psychology, social work, and others. Interns learn to integrate their treatment within an overall, individualized comprehensive treatment plan for each child. For more information, please contact Sagamore's Director of Therapeutic Recreation (631) 370-1810.
Volunteering and Donations
Volunteer programs provide the opportunity to enrich both the volunteer and the recipient. Sagamore Children's Psychiatric Center welcomes volunteers within our community who would like to help children reach their potential. The steady influence of a caring volunteer is very therapeutic for many of our children. We offer a wide variety of volunteer opportunities that encourage the children to develop relationships and learn life skills from the experience of our volunteers. Volunteers must be at least 21 years of age.
Volunteer donations at the holiday season play a large part in our efforts to provide the children with happy memories of the holidays spent here. For further information on volunteering time or donating material items, please call (631) 370-1800.
Contact Us
Main Switchboard – (631) 370-1700
Intake/General Program Information – (631) 370-1833
Executive Director – (631) 370-1747
Clinical Director – (631) 370-1712
Director, Facility Administrative Services – (631) 370-1727
Director, Quality Improvement – (631) 370-1721
Director of Nursing – (631) 370-1690
Chief of Inpatient Services – (631) 370-1840
Director, Community Services – (631) 370-1719
Treatment Programs
Bellport Day Treatment Program
350 Martha Avenue
Bellport, NY 11714
(631) 286-6930
Inpatient Services
197 Half Hollow Road
Dix Hills, NY 11746
(631) 370-1840
Intensive Day Treatment Program
197 Half Hollow Road
Dix Hills, NY 11746
(631) 370-1883
Please do not use a Global Positioning System (GPS) or Internet directions. They may be misleading.
Directions to 197 Half Hollow Road, Dix Hills:
From the Long Island Expressway, take Exit 50 and go North onto Bagatelle Road. Continue approximately one-half mile making a left turn at the traffic light onto Half Hollow Road. Proceed another one-half mile until you see the entrance to Sagamore on the right hand side of the road.
From the Northern State Parkway, take Exit 41 and go North on Wolf Hill Road to the first traffic left. Turn left at that light on to Carmen Road. Follow Carmen Road to the end and make a right turn on to Half Hollow Road. Go a short distance until you see the entrance to Sagamore on the right.
North Babylon Day Treatment
550 Mount Avenue
North Babylon, NY 11704
(631) 491-4355
Sayville Day Treatment
100 Greene Avenue
Sayville, NY 11782
(631) 567-5834
Wantagh Day Treatment
2850 Jerusalem Avenue
Wantagh, NY 11793
(516) 781-4097
Waverly Avenue Clinic
440 Waverly Avenue
Patchogue, NY 11772
(631) 654-2077
To report concerns about patient safety and quality of care, the public can contact Sagamore Children's Psychiatric Center Quality Management Department at
(631) 370-1727.
The Joint Commission will conduct an accreditation survey of Sagamore Children's Psychiatric Center during 2014.The purpose of the survey is to evaluate the organizations' compliance with nationally established Joint Commission standards. The survey results will be used to determine whether, and the conditions under which, accreditation should be awarded the organization.
Joint Commission standards deal with organization quality of care issues and the safety of the environment in which care is provided. Anyone believing that he or she has pertinent and valid concerns about these issues that Sagamore Children's Psychiatric Center has not addressed is encouraged to contact the administrative staff of the hospital. If you have additional issues, please contact:
Office of Quality Monitoring
Joint Commission
One Renaissance Boulevard
Oakbr/ook Terrace, Illinois 60181

or

Contact us by E-mail

or

Call toll-free at (800) 994-6610
This notice is posted in accordance with the Joint Commission's requirements and may not be removed before the survey is completed.
* If you require a different format for this information, contact Omer Jirdeh for assistance.
Comments or questions about the information on this page can be directed to the Sagamore Children's Psychiatric Center.